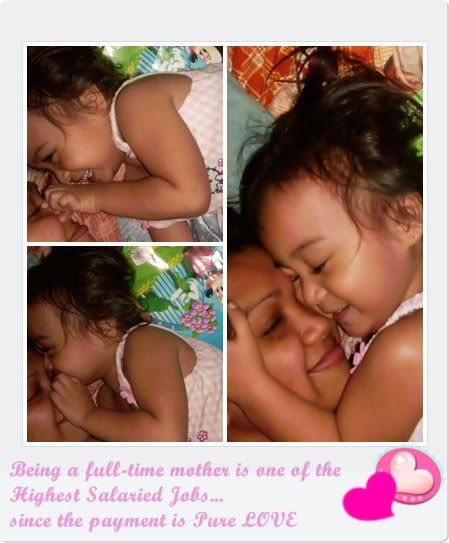 We celebrated Mother's Day at our church earlier and it was a heartwarming celebration as we payed tribute to our Moms. Before I presented a song number, I advised the young people and the children to appreciate their mom by hugging them and by  saying thank you and I love you. I cried when I shared my experience as a mom of my 4 year old daughter. There are times when I am in the midst of anger specially when my daughter did something wrong, but when my daughter approached me and then hugged and kissed me, all my anger are gone away.
Being a Mom is always rewarding for me. I feel extremely blessed each and every day were I get to spend with my child. I am passionate about being a mom and I feel so fortunate to have this experience with my daughter. You get the highest rewards in giggles, hugs and by saying "I Love You" from your child.
I find motherhood a very tough job because you can't resign, you can't complain and everyday is challenging for us. The only consolation that we can get is the hugs and kisses from our kids. Truly the payment that we can get from being a mom is the pure LOVE that our kids had showed to us.
scrolling="no" frameborder="0″ style="border:none; overflow:hidden; width:100px; height:27px;" allowTransparency="true">